Determining the order items are packed in a room
There are many approaches to decide what to pack in a room and when to pack it. However, there is one approach that is field-tested by the packers at Arpin RI and has proven to be universally effective.
This approach has 4 parts: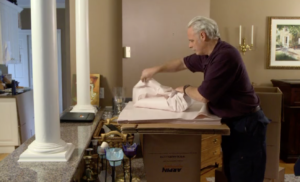 1.) Pack all of the items on top of furniture first. This prevents these items from being accidentally damaged during the regular packing process.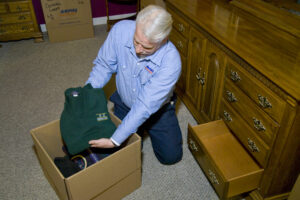 2.) Pack the contents of the furniture items and any built-ins second. Always try and pack the items directly out of where they're stored rather than double or triple handling them.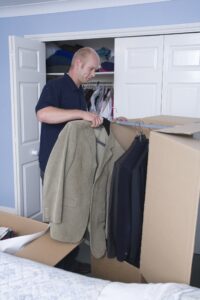 3.) Pack the contents of closets third. Closets will usually generate a large volume of cartons which may cause congestion in the room if packed too early.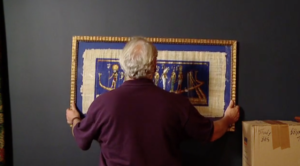 4.) Pack all of the artwork and wall hanging items last. The safest place for them is hanging right there on the wall until they're ready to be packed. Have the carton made up and ready to pack before you remove any artwork from the walls.
Placement of stacked cartons
Managing the packed cartons can be just as important as packing them. Before you start a room, you need to have a strategy for positioning the fully packed cartons.
Here are the ground rules that Arpin RI workers use to position their packed cartons: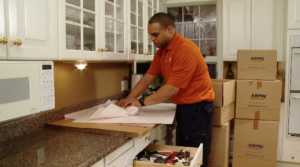 Stack the heaviest cartons close to where they are packed to reduce fatigue.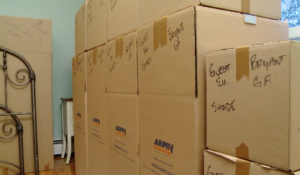 All packed cartons should be placed on top of each other in stacks; not on furniture. Stack similar-sized cartons in the same stacks. These stacks should be no more than 5 feet tall. Heavier cartons should be lower in the stack and lighter cartons higher up.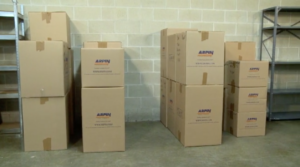 The carton stacks should be lined up in neat rows. All labeling must be facing outward. When packing large storage areas, they may be limited wall space so it may be necessary to stack cartons in aisles like a grocery store. As with a market, stack the cartons back-to-back in rows with the labeling facing into the aisle
Carton stacks should be at least 6 inches away from any wall or structure and should not block access to doors, stairways, ventilation ducts, lights, or essential equipment such as fuse boxes, thermostats, or alarms.
Do not leave stacks of cartons in hallways or in areas where those stacks could block your movement during an emergency.
Do not place stacks of cartons near furnaces, heaters, or any other warm surface that could create a fire hazard.
Do not leave cartons outdoors exposed to the weather.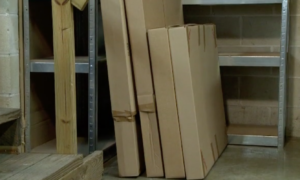 All mirror cartons and other flat cartons that won't stack well should be leaned against a structural part of the residence or an item that is not moving, not against any part of the shipment that is movable (like other cartons or furniture.
Disassembly and Preparation or furniture items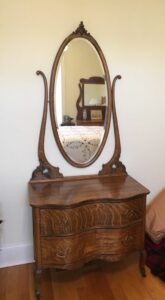 To fully pack a residence means quite a bit more than just packing the items in boxes. It also means preparing or the partial disassembly of items so those parts are not misplaced along the way. It also may mean wrapping items but not packing them. Here are some non-packing techniques that Arpin of RI packers use to prepare shipment items for transport:
Many antique dressers have mirrors and mirror supports that require disassembly before they can be packed. All of the hardware should be bagged and attached to the mirror supports or the mirror itself before it is packed
The shelves from bookcases or cabinets should be removed and either wrapped in paper export pads or packed in mirror cartons. All shelf support pins should be removed, packaged, labeled. These pins can be shipped in a drawer, kept with the shelves, or packed in a parts-only carton.
Wheels or casters from antique furniture items should be removed, bagged, and placed in a drawer.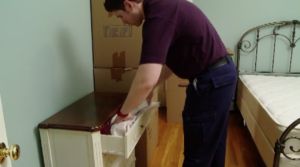 The contents of all drawers should be inspected and loose items secured with paper.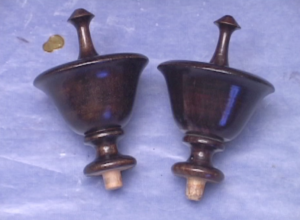 Small drawers or removable furniture parts such as finials, backsplashes, or arm covers for overstuffed furniture have been removed and packed.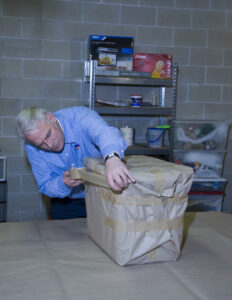 Plastic bins should be wrapped in export paper, taped, or stretch wrapped.