Your Trusted Rhode Island Office Movers for over 120 Years
Office and business relocations are complex projects, not single events, and there is more to an office relocation than just the physical moving process.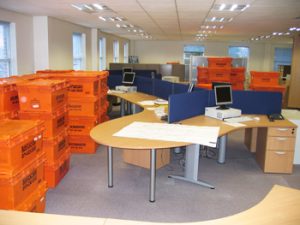 An office move requires intense planning, preparation, coordination with other service providers, and communication to ensure no downtime. Arpin of RI has over a hundred years of office moving experience, so we have the know-how to develop a move plan and provide the professional oversight needed to ensure success.
We provide diverse direct and consultation services for office relocations.
Arpin of RI provides a vast menu of direct services and consultation services for office moves that include:
Experienced office relocation managers, supervisors, and crews
Move segmentation and scheduling
Pricing details for all potential services
Instructional materials and pre-move clinics for your personnel
Traffic management, parking permits, and police details
Elevator scheduling
Floor, elevator, and walkway protection/installation
Plastic tote rentals
Floor plans, labeling, and stickering
Proper trucks, crews, and move equipment
Supervising your move process
Our planning process ensures results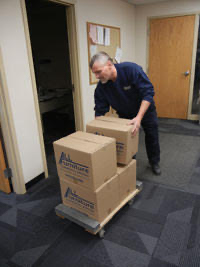 The success of your office movers depends on two factors; developing a great plan and then flawlessly executing that plan. With Arpin of RI, every moving plan begins with tours of both ends of the move to view all of the items needing transportation with a focus on crew and truck accessibility.
Next, we meet with all of your department heads and your IT to determine their needs, which in turn defines your critical timeline. If needed, we'll meet with subcontractors involved with aspects of the move like designers, architects, cubicle disassemblers, electricians, riggers, telephone personnel, or computer installers to discuss our roles and what we need from each other to ensure cooperation.
We then meet with the building's owner or managers to identify any limiting factors of timing, noise, temperature, or access. Lastly, if needed, we'll meet with local police or city administrators to iron out any road closures, parking limitations, or handicap accessibility choke-points.
Our moving staff makes the difference.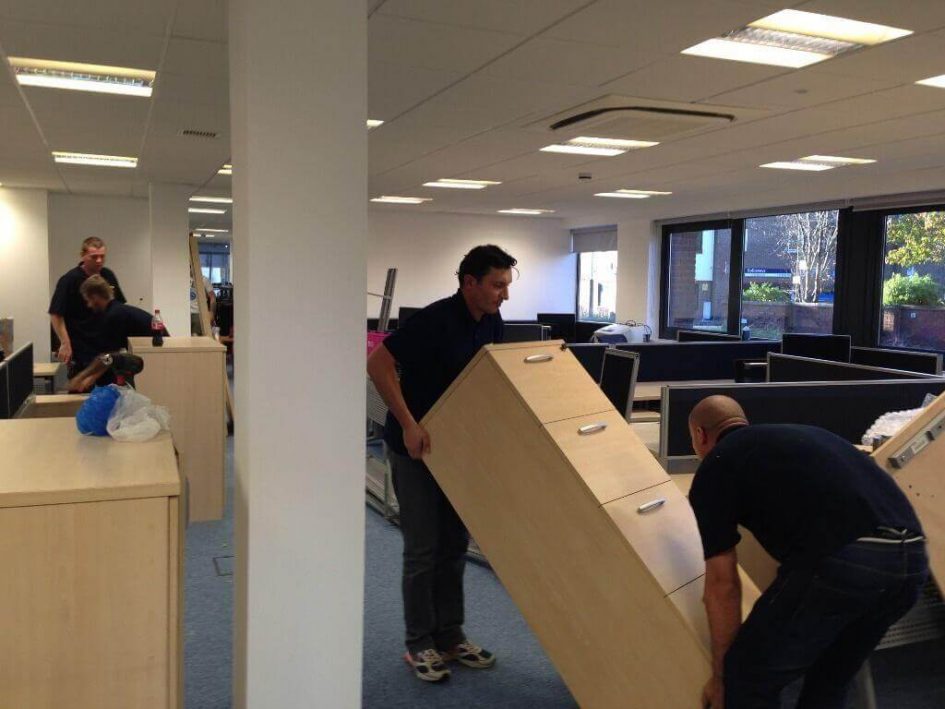 We'll take all of this back to our offices and formulate our overall strategic plan and the individual tactical plans needed to complete it. We'll develop a plan for:
Scheduling: Determining the number of days needed and the period of the day required; during the workday or after hours.
Personnel: Once the schedule is blocked out, we'll do a manpower assessment that conforms to the schedule.
Packing: We'll determine the most cost-effective method of packing your items; cartons, plastic totes, library carts, computer carts, artwork carts, or some combination of all.
Schematic: We'll prepare a labeled and color-coded schematic of both facilities; old and new. We'll use that to prepare the proper order to load the items, so the unloading is as efficient and well-orchestrated as possible.
Travel: We'll formulate a truck movement schedule that is the best fit for economics and time efficiency.
Pricing: Our team will sit down together with their collective experience, tactical plans, and moving software, and they'll create an accurate and reliable strategic move plan and cost estimation that you can take to the bank.
Historic Moving Service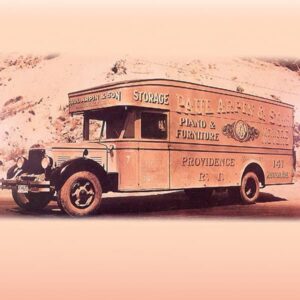 We are the most reliable office movers in RI because we are the most accountable RI office movers. Sadly, many movers in RI view their moves as just one-offs, so they'll do or say whatever is necessary to close the deal. At best, they may exaggerate, over-promise, and under-deliver. At worst, they lie, misrepresent, and effectively steal. At Arpin of RI, we take a much longer view of our relationships with customers. We prefer to operate with integrity rather than with expediency. We tell the objective truth, stand behind our work, and deliver reliable value on every move we perform.
We know how to move any business because we've moved every type of business.
There is no substitute for experience in office moving. Commercial relocations are done at such a large scale that even minor inaccuracies of the plan can cost thousands of dollars and minor inefficiencies in its execution can cripple your business. The level of office moving experience at Arpin of RI is enormous. We've moved libraries, pharmacy companies, toy companies, defense companies, pen companies, laboratories, physicians, lawyers, engineers, banks, financial services, banking headquarters, warehouses, motorcycle dealerships, schools, manufacturing facilities, hospitals, professional football teams, and casinos. You get it…basically, Arpin of RI has moved everybody whose anybody in New England. We even moved ourselves. Suffice it to say; we are the premier mover in the state.
We have storage solutions for every kind of office move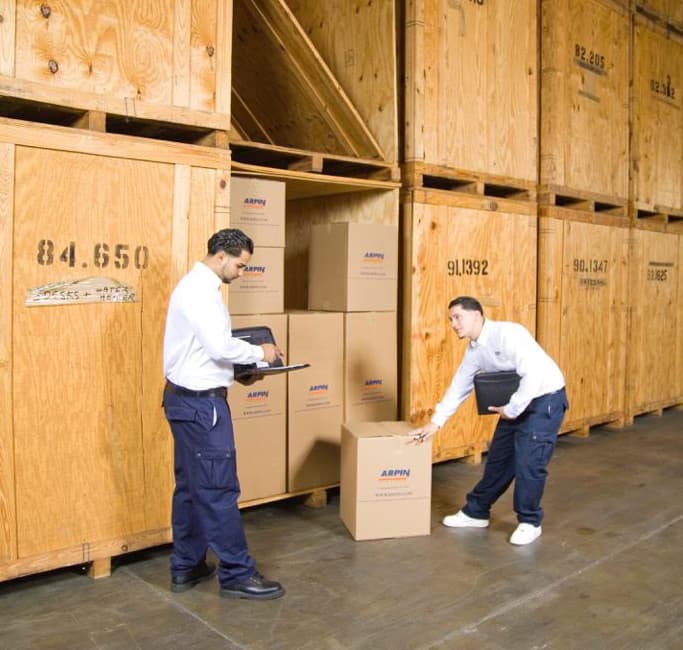 Our skilled professional warehouse staff have been trained to carefully store your valuables to ensure the safety and availability of the items. Our facility is infinitely more user friendly that a self-storage location.
Our White Glove commercial storage service provides the perfect storage solution for files, furniture, and even extensive equipment. Every item is given specialized treatment to prepare it for storage so it is safe, contamination-free, and accessible. Our secure facilities are fully protected, monitored by 24-hour video surveillance, and feature fire protection and are ADA compliant.
Reusable Office Packing Technology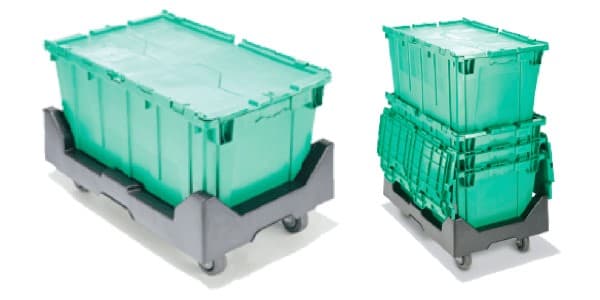 Arpin of RI offers several types of commercial crate rental suppliers, depending on the customer's needs and location. These plastic crates replace traditional cardboard cartons and can be rented by the week or month. Arpin will provide ordering guidance and arrange the delivery and pick up of the empty crates. We also have rolling racking for books, files, computers, artwork, and supplies.
What Our Customers Say About Our Service
I used Arpin moving services twice in the last 14 months. I requested the same crew for the 2nd move . All the guys were professional, courteous, and conscious of our new home. They laid blankets down on our carpets as it was raining on the day of our move. I would absolutely use them again.
Care was taken in moving out and in of our belongings. Thank you for a smooth move!
I really appreciate recycling materials and being able to get used boxes for packing. Moving day was efficient and my furnishings were well-cared for. I have used Arpin for all my moves and highly recommend them.
Super professional - handled our furniture with care: wrapped in blankets, ramps on every step. The men were friendly, polite and took pride in their work.
We received an estimate quickly and the final charge was even less. The three movers were professional and careful.
On-time, no damage and cooperative.
Checked in to pickup a load going to Miami FL. Immediately told to back into a door. Went inside the warehouse and James Trimble load me asap. Another gentleman helped but I didn't get his name. Speed and efficiency is second to none. Great job guys!Large space to maneuver a 53ft trailer and able to park overnight on site.
Great experience with the move! Team was friendly and professional. Easy process from beginning to end, from making appointment for the price quote with Customer Service, to the initial walk through for the price quote, to the end of the process of the movers showing up and moving. They were fast and efficient and even through a couple of deals/money off towards me and my Fiancé. I would highly recommend Arlin of Rhode Island to family and friends! Great Company!
I was so impressed with the professional organizational skills of the three men who helped me move I could not have been happier. They worked very well together and made light of having to cover furniture and even left me with the covers so the furniture would not get ruined. They totally took control of moving from two different locations and knew of short cuts that were advantageous to me.
At each step of the move, the Arpin team was helpful and friendly.From the availability of used(gently) moving boxes to offering tips for how we could save money on the move. The final cost for the move was significantly less than the estimate. We recommend Arpin to everyone we know considering a move.
The movers were hard working and professional. When something went wrong (I've moved many times and something always goes wrong) they took accountability and made it right. You can't ask for more than that. Pricing was competitive and the service from their back office (Steve F. and team) was super. I would recommend them to my friends.
They were there when we needed them. Very professional moving us from a large storage unit to a a two floor townhouse. Arrived on time and finished early. Good two truck team with four movers. Adjusted final price downward as they completed the job earlier than anticipated. Fair and honest.
Everyone was very helpful, and friendly.
Jim T and crew unloaded my trucks fast & efficiently .. Thanks guys
Arpin was excellent, from initial contact and estimation through completion. They are trustworthy and professional, which makes them stand out in this industry. We used them multiple times for multiple moves and they never let us down.
Liberty Moving and Storage/ Arpin of Rhode Island is a great place to work. I have been with them for almost 9 years. Great people
Having spent 28 years in the Army I have made many, many moves. The best moving experiences I have had is with Arpin. I just stood out of the way and they did it all. Three times I moved in NYC and it was incredible how the driver was able to maneuver the big rig 18-wheeler in some of the tightest spaces I have ever witnessed. As in all the moves with Arpin, the crew was totally professional and packed, then unpacked, my belongings with great care. Their techniques used to move the large items and a grand piano, demonstrates a very a high level of skill I have never witnessed with other DoD contracted movers. I will always call on Arpin of Rhode Island to move me again. I can't say enough good things about this excellent company and the crews they train to care my most precious belongs. Thanks guys; You know who you are.
My experience with Arpin of Rhode Island was a very positive one! The driver politely initiated the process, and everyone was extremely helpful and very professional! I would highly recommend using this them.
We contacted several large moving companies to select one to move us from RI to FL and selected Arpin based on pricing and initial service. They were fantastic! The packing crew and driver were so professional and careful with our items and our home. The delivery time was excellent, and the crew that delivered our furniture was just as great. I would highly recommend Arpin to everyone.
Great folks to work with and for...The last family owned carrier.
Moving Articles & Resources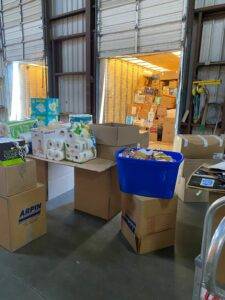 Arpin Rhode Island: Standing with Ukraine The Ukraine Aid Drive Rhode Island has proven that it is a little state with a big heart.
Read More »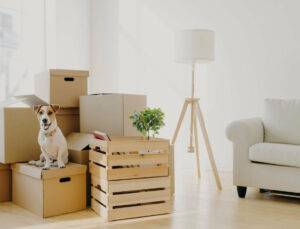 Arpin of RI has been moving apartments in RI since 1900; that's 121 years and counting. During that time, our overriding objective has always been
Read More »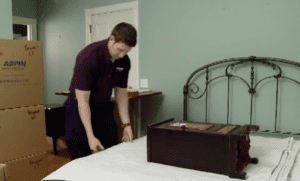 How To Pack Everything In A Bedroom Packing dressers and furniture When packing bedroom furniture, the first order of business is to examine the
Read More »
Helping Families Move for over 120 years