Pro Tips to Help You Start Packing
Self-Packing: What types of boxes do you need and how many of each are needed?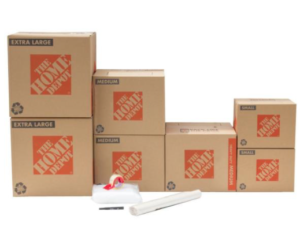 Customers who are going to pack themselves should choose to buy the best boxes possible. Unfortunately, Arpin Rhode Island does not have a retail sales license so we cannot sell our high-quality cartons to the public. However, there are cartons available for customers that are very similar to ours and are competitively priced. ArpinRI recommends using cartons from Home Depot, Lowes, or U-Haul rather than liquor store cartons.
The weight goal when packing a carton is to keep the total weight between 30 and 50 pounds. Staying within that range will limit potential muscle strains or worse; serious injuries. The objective is to choose the right combination of items that will fill the carton without exceeding your weight allowance.
Making sure you don't run short of materials
Running short of materials (boxes and paper) is the most common occurrence for inexperienced packers. When you run out of a particular size carton, customers usually just choose another size and move on. As a result, many items are inappropriately protected because of a poor fit. They are jammed into a box that is too small or they are flopping around in a box that is too big. A bad packing outcome can occur just because the right-sized carton wasn't available to the packer at the right time.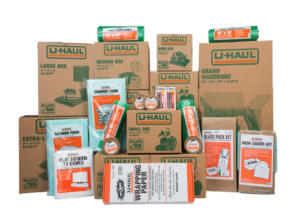 As we have stated before, the cartons that are closest to professional cartons are available at the bigger home centers like Lowes and Home Depot as well as from the U-Haul store. The most appealing feature of these stores is their willingness to take back unused materials without prejudice. Arpin RI recommends that customers "overbuy" by 15-20% so they have enough of every size carton. When they're through, they can just return the unused cartons for a full refund. You pay for just what you needed, and not a cent more.
Determining how many cartons will you need based on square footage
Here is an average carton count based on 2 people living in a residence with 1,000 square feet of living space. Scale-up these values proportionately for a bigger home and scale them down for a smaller home.
For a 1,000 square foot residence, you will need on average:
20 small cartons (1.5)
25 medium cartons (3.0)
20 large cartons (4.5)
10 extra-large cartons (6.0)
15 mirror or art cartons
10 wardrobe cartons
Several flat-screen TV cartons
Mattress cartons or bags
Determining how many boxes will you need based on each carton's capacity
In terms of estimating the numbers of boxes needed, it may be more helpful to illustrate how many items of a particular type could fit in a single box that size. Here is a listing of how many items can fit in each type of box.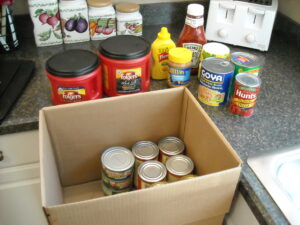 What you can fit in a single 1.5 cube carton:
About 4 linear feet of hardcover novels on a shelf.
About three brown grocery bags of canned goods
Two or three kitchen drawers
One file cabinet drawer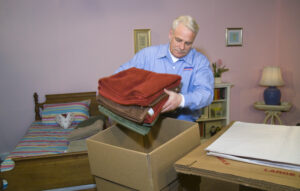 What you can fit in a single 3 cube carton:
The contents of a large laundry basket
The bedding for a twin bed
About 4 feet of linens, folded clothing, or towels on a shelf
The contents of 2-3 dresser drawers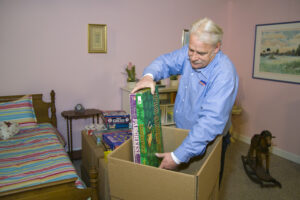 What you can fit in a single 4.5 cube carton
The contents of two full loads of laundry
The bedding for a queen/king bed
All of the board games of an average family
The contents of a toy box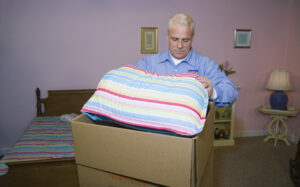 What you can fit in a single 6 cube carton:
Bedding for a king-size bed
A large dog bed
Two large lamp shades3.4.4
What you can fit in a 24″ wardrobe carton:
The equivalent of 30-36 linear inches of regular clothing as it hangs in your closet. You will fit fewer items when packing heavy clothing like men's suits…and fit more when packing lighter clothing like those for women or children.
You can fit 24 linear inches of outdoor clothing/coats as they hang in your closet
What you can fit in a single TV/art or picture box:
Medium size…3-5 medium-sized framed art pieces. (24 by 36 by <2" thick)
Large size…5-6 medium-sized framed art pieces. (24 by 36 by <2" thick)
XLG…7-8 medium-sized framed art pieces. (24 by 36 by <2" thick)
Home Depot has a nifty packing calculator widget on their website to guesstimate your carton needs.
This is the link to Lowes' moving cartons:
https://www.lowes.com/pl/Moving-boxes-Moving-boxes-supplies-Storage-organization/4294713229
This is the link to Home Depot's moving cartons:
https://www.homedepot.com/b/Storage-Organization-Moving-Supplies-Moving-Boxes/Cardboard/N-5yc1vZchncZ1z0sqak?storeSelection=